Being home from vacation is nice for a multitude of reasons, but mostly it has been a pleasure to resume our normal diet. I love food, too much sometimes. But as I get older I have become painfully aware that food doesn't always love me back. I have realized that most dairy, cheeses and milk in particular, makes me double over in pain. Grains make me feel bloated. Sugar these days, even though I've always known it was bad for me, in a piece of cake or a few cookies makes me lethargic and nauseous. And so we eat a lot of fruits, veggies, nuts and meats around here.
Below is a roundup of some comforting, healthy and quick recipes we incorporate in our meal planning regularly. I'm by no means a dietary expert or health nut, but I like to try to keep my diet pretty clean. I feel so much better eating this way than I did six months ago when I was working a job I hated and didn't have enough free time to figure out what foods I needed in order to feel good. I've also dropped about 10 pounds in the past six months which is a nice by-product of eating the right foods for my body.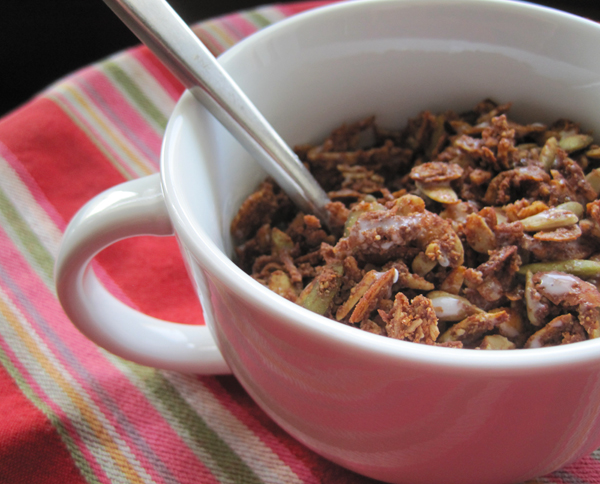 Each week we get a large produce bin from Green B.E.A.N. delivery that is said to feed a large family. The two of us easily consume it all. Most of the time our order will contain 4 lbs of yams, baby spinach and another lettuce, a few bunches of carrots, at least two other green veggies — most often Brussels sprouts and broccoli, and then a handful of fruits, typically 8 apples and a pound of bananas. We top off our order with a dozen eggs, nuts and a selection of turkey, chicken, bison and ground beef.
In addition to our delivery from Green B.E.A.N., we make sure to stock up on coconut oil, olive oil, almond butter and other tasty fats. And Lara Bars. I keep those on hand because…. well, I just like them and they help fill in calorie gaps when I fail to eat as much as I intended. We also only keep water and seltzer water on hand (as well as the fixings for delicious cocktails like this, this and this).
My weekday lunches often include a baked egg (just like hard-boiled, but done more easily in the oven), carrots or a salad, almonds and a piece of fruit. Dinners for both of us  include a protein, probably meat on the grill, and a hefty assortment of veggies either fresh, baked or steamed. Of course we've got some sweet treats to get us through the week, like the chocolate sorbet I made last night (oof. amazing). More often than not though, dessert is apple slices and almond butter with a square(s) of dark chocolate.
The following recipes usually make an appearance at least once a week in our house. I think they are well worth making an appearance in your kitchen as well.
Guaranteed Crispy Sweet Potato Fries & Sriracha Mayo Dip from The Art of Doing Stuff: This recipe is the closest that we've come to making crispy sweet potato fries. It takes some time to get it right, but it's worth it when you get it all figured out. One thing I'd suggest is to mix the oil with the corn starch-covered fries in a bowl and not on the pan. After the fries are coated with the starch and oil, coat the pan lightly with oil, then arrange your fries. We've also found that simply mayo with some sriracha and chili powder to taste makes for a nice dip if you don't have all the ingredients on hand.
Sweet Potato Hash (with fried eggs!) from Nom Nom Paleo: It's delicious as breakfast or dinner. Overwhelmingly good. Quick and easy (if you have a food processor).
Caveman Crunch from Civilized Caveman Cooking Creations: This recipe, pictured at the top of the post, has become our go-to breakfast and snack option. Regan eats it with regular milk and I eat it with a little coconut milk (or by the handful if I come home from work ravenous). I used the recipe as is the first time around, but later realized it's a pretty adaptable recipe and you can make up quantities of ingredients as you go along, depending on what you have on hand. It's tasty, like granola, but it keeps me satiated for much longer.
Golden-Crusted Brussels Sprouts from 101 Cookbooks: Pretty much the best way to eat Brussels Sprouts. We omit the cheese, but it's amazing with or without. Really, we made these for Thanksgiving last year and my father, who is not much of a food guy, asked for the recipe  and told mom that he could get behind Brussels Sprouts done right. I figure if this recipe can evoke excitement from him, it's a winner.
Dijon Dressing: All the salads we make use either Dijon Dressing or the Orange Muscat Champagne Vinegar from Trader Joe's. To make our Dijon Dressing we use approximately one part olive oil, one and a half parts balsamic vinegar and two parts Whole Grain Dijon Mustard, mixed well. Change the quantities depending on your taste, of course. It's got a bit of tang and a bit of spice, just right with a spinach salad topped with grilled chicken breast, tomatoes and walnuts.
Kale Salad: We make lots of salads, but one we've found that keeps well for the week so that it can easily be packed for lunch is a kale salad. We like to toss about two bunches of kale with a pint of blueberries, a pint of grape tomatoes and a cup or so of sunflower seeds with Orange Muscat Champagne Vinegar and grapeseed oil. Of course I've never measured quantities, but I'd say we use about 1/8 cup of vinegar with a few healthy splashes of oil so that all the leaves are lightly coated.
So, that's a peek into our refrigerator and pantry. What's in yours? I want to know what foods keep you going each week.