I have no projects to show for the past few months, unless you'd like to read some grants (not recommended). Those have been successful, but things around the house haven't. The temperature and humidity have changed so much that my DIY Shampoo is creating some serious scalp confusion. Our beautiful and promising garden rebounded after the drought by producing an amazing amount of tomatoes and peppers that will sadly never ripen because we've run out of summer heat. We've been eating a crazy bland diet just for fun so I don't even have delicious recipes to share. Plus, it's September, the season of depression, and so I haven't really been inspired to tackle any sewing projects.
So here's a project  from summer that I haven't yet shared. It's the last of the posts documenting my metalsmithing class at the Indianapolis Arts Center.
The last of our projects had to incorporate the use of a jeweler's saw, sweat soldering, solid and tube rivets, setting a bevel and edge to edge soldering. With all those specific requirements I learned a lot of processes I wouldn't have normally, but my "finished" pieces look pretty clumsy.
I have hours of practice to go before I become even the least bit comfortable putting all these elements together to make jewelry resembling something people would actually wear, but I at least feel I finally have a small understanding of what it takes to work with metal. One thing I absolutely know is that I'm a complete fan of torches and excessive hammering.
Bracelet: Rolled brass oval, sweat soldered to a copper oval with a brass leaf riveted to the top. Tube rivets on each end serve as a way to fasten this 2 inch piece to a chain.
Rolled copper strips imprinted with lace. Rose quartz setting using edge to edge soldering.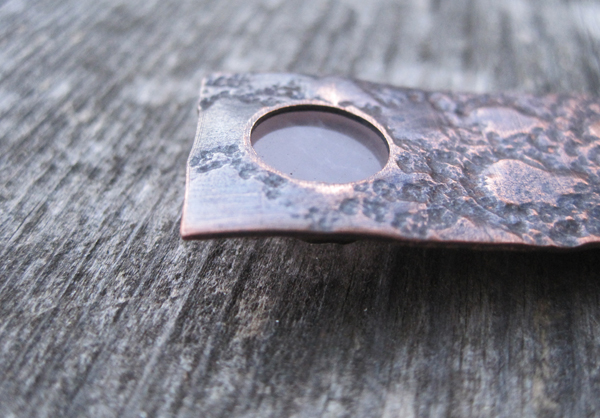 Die cut opening behind stone so that buildup and residue can exit and will not dislodge stone.