Champaign, Illinois and Park City, Utah have amazing farmers markets and we've wanted to find something on a similar scale in Indianapolis, but have had no luck until this morning. The Indy Winter Farmers Market in the Chatham Arch Building at East and 9th is pretty fantastic. I mean, really fantastic.
Our spoils include a whole lot of freshness in addition to homemade pasta from Nicole Taylor's Pasta (whole wheat rigatoni, tomato and curry pastas). We're already planning next Saturday so we can beat the crowds, take our time and see the rest of the grains and dairy we couldn't quite get to this morning.
Each weekend in winter we make a huge pot of soup for the upcoming week. As with any soup we make there's no recipe and we throw in whatever is on hand. About half our market haul made it into this week's soup and since it was so awesome I'm writing down the "recipe" should you feel compelled to make a huge pot of soup too.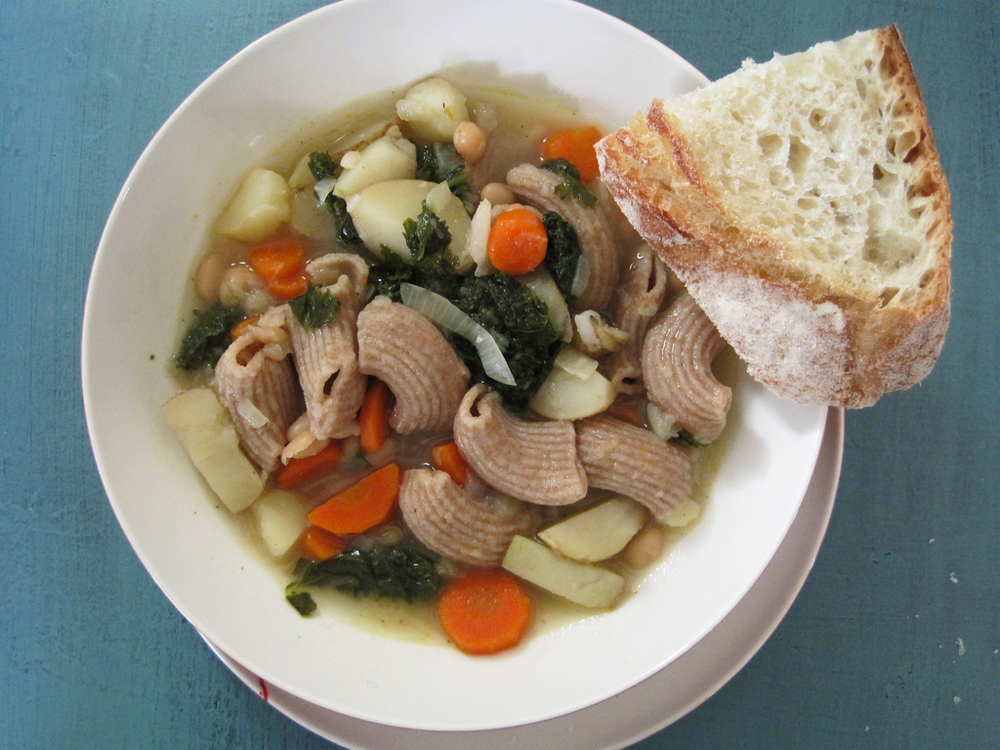 Market Harvest Soup
Ingredients
• 4 Tablespoons butter (or olive oil)
• 2 Onions, chopped
• 5 Carrots, peeled and chopped
• 1 Bunch of turnips, chopped
• 1 Pound of tiny golden potatoes, chopped
• 1.5 Cups of white beans
• 6 Cups of broth (we used Rapunzel Sea Salt & Herb Vegetable bouillon cubes)
• 3 Cups torn Kale
• 1 Cup of wheat rigatoni (Nicole Taylor's = awesome)
• 2 Bay leaves
Process
1. Heat butter or oil on medium until melted and saute onions until softened, about 5 minutes.
2. Add carrots and saute for 2 minutes more.
3. Pour broth over onions and bring to boil.
4. Add turnips, potatoes, white beans and bay leaves. Bring back to boil, then cover and let simmer for 30 minutes.
5. Add pasta and cook for 5 minutes (check your pasta cooking instructions and adjust if pasta needs more or less time to cook).
6. Finally add kale, stirring into soup. Recover, then let cook for about 3 more minutes until kale is soft yet still vibrant
Makes about 6 servings, but we serve up some hearty portions in this house (about 1.5 or 2 cups per serving)