During the summer of 1998 I worked at a summer camp — not as a counselor or any of those  roles one might someday remember fondly. I was the Dining Hall Steward.
What's that, you ask?
It's the person who makes meals run smoothly by calming hundreds of screaming kids and introducing each menu item. On a microphone. As a 17-year-old with angst,  braces and zero confidence, this wasn't an ideal situation.
Between meals I would spend my time prepping dinners for cabins going on overnights. I washed potatoes and packed  aluminum foil for hobo dinners; made sure everyone had plenty of marshmallows, chocolate and graham crackers for s'mores; and wrote notes to the cabin groups with cooking instructions and well-wishes for a lovely evening in the woods. These notes were the one connection I felt like I had to the counselors who were nearly my age and who I imagined to be my friends if only I weren't so terrified of every single one of them. So instead of getting to know these counselors through conversation, I would carefully craft each letter on these notes. I hoped so much that my handwriting would convey something to them — maybe make them think I was more than just the girl in the kitchen, someone delightful and interesting. It never worked (surprise!).
Years later, though, when I met my now husband I realized that that summer working on my handwriting had paid off.  A week after we first met I wrote him a check for something. Upon looking at it he said, "I'm going to have trouble cashing this. Your handwriting." And that's pretty much when I knew I'd found my person.
All this reminiscing to say I love letters. And even though I rarely write without a keyboard anymore and I created nothing handwritten over the holidays, I had fun focusing on letters this Christmas.
First a recycled sweater stocking to round out a set for our friends who had a new addition.
Then initial ornaments for my sister and her boyfriend to celebrate their first Christmas in their first apartment in a new state. They are made from a sweater and decorated with French knots.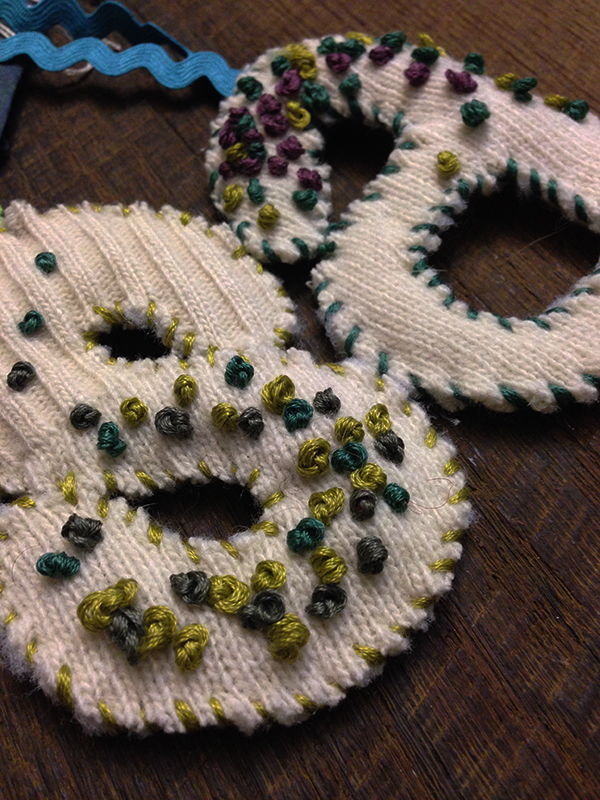 Finally, I created a fabric letter collection for my two-year-old niece who is off the charts with smarts. Made from fabric scrap on the front and old t-shirts on the back, they represent the entire alphabet with a few extra vowels thrown in. They are all collected in a handy little matching bag fit for her to carry around.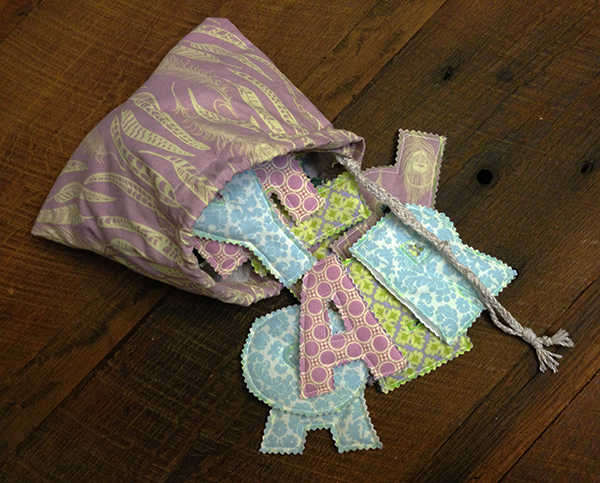 Luckily I'm past the point of feeling like my personality can be reflected solely through letters, but there's something really satisfying about creating freehand letters for projects, even if they are nothing fancy. Hopefully putting chalk to fabric put me on the path to put pen to paper in 2015 so I can reclaim that handwriting I worked so hard for nearly 20 years ago.
What gifts did you create this year?