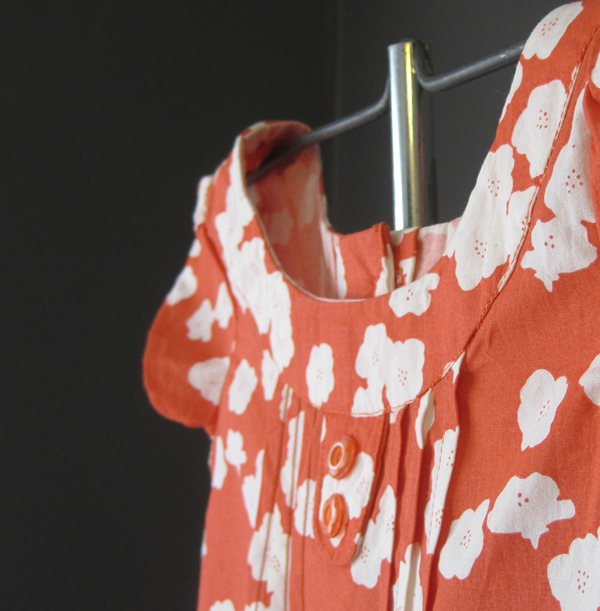 I've never made pin tucks. I've never made button holes. In fact, I tend to steer clear of anything the least bit fussy. But when I was looking for a dress pattern to make for my niece for her first birthday, I landed on the Family Reunion dress from Oliver + S and kind of fell in love. The fine people at Crimson Tate assured me that I could handle the two scissor level of difficulty (out of four) and so I walked away with pattern in hand as well as some really great fabric from Birch Organics, designed by Jay-Cyn. And you know what? I totally was able to handle the two scissor level of difficulty. You know what else? Crimson Tate now has an online store so you can shop there too. (And I highly recommend you do.)
Once I finally got started, this dress came together really nicely. In fact, it came together so nicely that I stopped every 10 minutes to show it to my husband, excitedly pointing out that "It looks like a real dress!" He would patiently agree and congratulate me on the fact that the dress I was making from a set pattern did, in fact, look like a dress. The pattern is easy to understand and comes together with a clean finish. Everything on this dress, inside and out, is perfectly charming. There are some more interior shots of the dress in my Flickr feed in case you want to see the genius that is Oliver + S pattern writing.
The front has a little button placket, and the sleeves are gently gathered.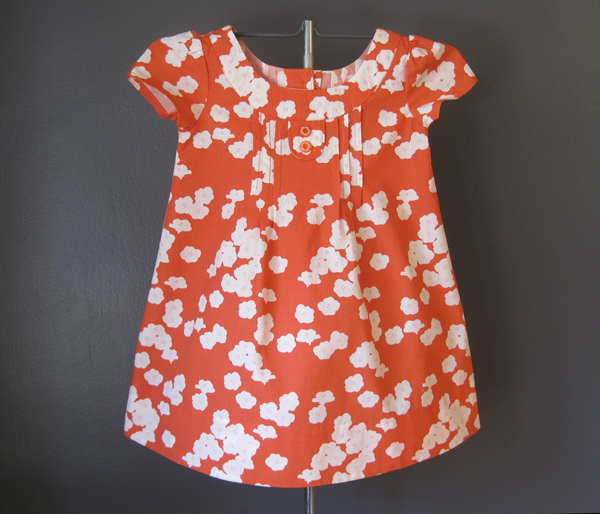 The back buttons all the way up. And making button holes, as it turns out, isn't hard at all.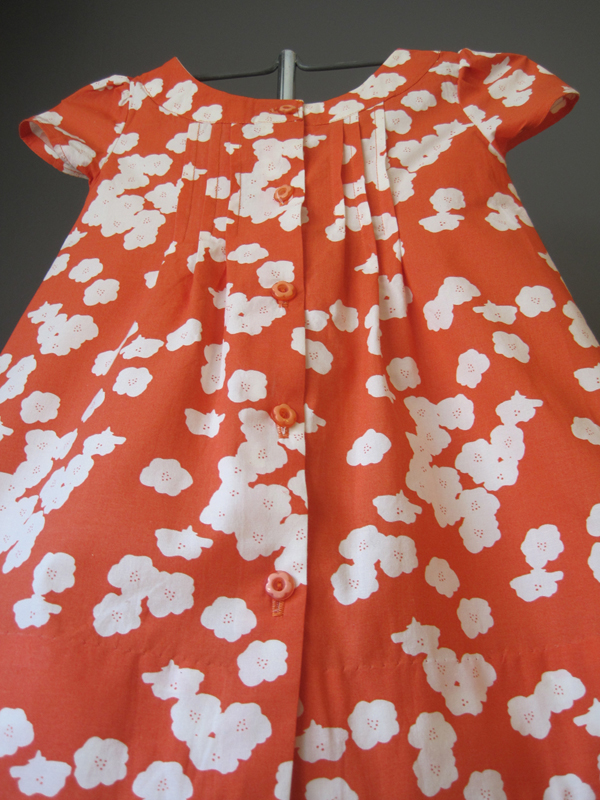 I really am in love with this dress, but what I think I'm even more in love with is the fact that the spool of thread I used for this dress came from the collection of thread passed down from my great-grandmother, to my grandmother to me. This thread couldn't have matched more perfectly and I like to think that years ago Great Grandma Mullendore found this perfect coral thread for Harper's dress and put it in her collection so that we could collaborate on this project today, even though she's been gone so long.
I guess Harper's first birthday was a celebration of firsts for everyone. Not only did I tackle some new and "scary" sewing stuff, but I also met the challenge of making themed cupcakes for her birthday bash. I make cupcakes, but I'm from the school of cake + frosting = delicious. I've never set out to really decorate something that anyone looks at twice. However, my mom requested some ladybug cupcakes for the party and so I called up my friend Patti, the Carbivore, who gave me some pointers. Some fondant, some patience and a few hours later we had some appropriately themed cupcakes.
It's probably not a hobby I'll take up, but it was a fun way to spend a few hours on a cold October day.
Happy Birthday, Harper!
Related Post: Easy Bunting Baby Quilt