I have entirely too many skirts, but I didn't come to this realization before I cut into my most recent project: New Look Skirt 6899. I used Anna Maria Horner's Little Folks collection in Village Path, Berry. It has such a great, light weight to it and the hand is so silky. It's a big step up in the fabric I typically use for skirts. Also, I'm digging that I finally got around to making a skirt with pockets and a properly installed invisible zipper. I know I really should be well past marveling at simple things like zippers and pockets, but I take such long breaks between projects that I start over a little each time I sew.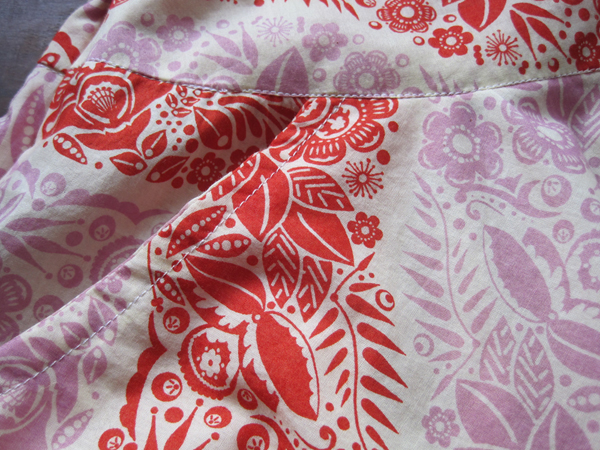 [above] Detail of the waistband and pocket.
[above] Detail of the hem and seams, which I actually took the time to finish.
Even though I like this skirt I'm not in love with it. I have this problem a lot. I fall in love with busy fabric, search for the perfect project, and then realize that there isn't a perfect project because I don't wear busy fabric well. So then I end up making a skirt with it so that the pattern is far away from my face. I guess I could always use my busy fabric to make some harem pants or something, but for the sake of my pride and marriage I won't. I'll just stick to skirts.
So, now I have a new skirt that I like but don't love, and clearly I don't have a shirt that pairs well with it. My question to you is: What would you wear with this skirt? I need some help on this.