I come from a long line of soft-skinned, creamy-complected women. As a kid I used to sit on the arm of my great grandmother's cushioned chair, my body curled along her left side and head rested on her shoulder as I listened to her read to me. I'd absentmindedly play with the silky skin that hung from the back of her arms while I faded happily in and out whatever story she was telling. I'm not so sure that I'd be so patient and loving if someone was playing with my arm fat, but somehow she let it slide. Add patience and kindness to the list of traits owned by those women who came before me.
Growing up I thought I could just rely on genetics and minimal care to get my skin to age gracefully. I have always embraced sunblock and washed my face (almost) every night, but moisturizing, steaming or other skin care regimes are not anything I've been very good about maintaining.  It doesn't help that I steer clear of most products due to chemicals and am usually too lazy to find a natural replacement. And I didn't really think anything of my lack of skin discipline or its impact on my appearance until last winter when I looked at my face and thought, "You are aging horribly."
Really, I'm not really aging all that horribly, but for a few stray grey hairs and wrinkles that have popped up in  my 30s. It's just that hyperbole, particularly as it relates to weight and appearance, is largely embraced by my family. You'll probably never meet a group of such average looking folks who think they have as many physical flaws as they do. This is not one of the traits I embrace being passed down to me.
But I digress. Back to skin. I've been refining a vitamin C serum that works for my skin for a while. It's a simple little solution that really refreshes my face and keeps it looking bright and even. This recipe utilizes ascorbic acid powder, distilled water and vegetable glycerin.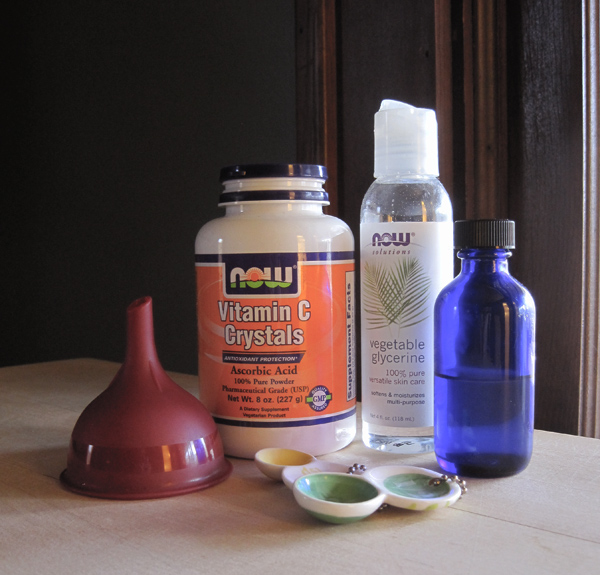 Vitamin C Serum
• Blue or brown glass bottle
• 1/2 ounce distilled water
• 1/2 teaspoon Vitamin C Crystals (ascorbic acid)
• 4 drops vegetable glycerin
Mix together the water and the vitamin C in the bottle until fully dissolved (using a funnel in this step will make it much easier). Add the drops of vegetable glycerin and swirl together.
Store in a cool, dry place and apply with your fingertips at night.
Notes: I only use the serum at night because I like to play it safe. Vitamin C can be phototoxic, which means it can render the skin sensitive to sunlight.
This solution also oxidizes rapidly due to the interaction of the vitamin C with water so only make very small portions and store in a tinted glass bottle to slow oxidation. This recipe has a shelf life of about 7 days. Do not use when the serum turns yellow. If it has yellowed it means that it has oxidized and it not beneficial for your skin; in fact it can be harmful to your skin and may promote free radical formation.
For those with sensitive skin, the amount of ascorbic acid may be too much and may need to be watered down. For me, this ratio of ascorbic acid to water stings lightly for a few seconds after applying, but does not burn. I've had to play a lot with the vegetable glycerine amount in order to create some moisturizing effects without making my skin sticky or cause it to break out. As with all recipes, it's fun to customize to your specific needs. However, you should always buy good quality ingredients and be aware of each ingredient's purpose, the shelf life and potential interactions ingredients might have with other elements.
Now that I've issued only warnings and not touted all the glowing properties of vitamin C (antioxidant, free-radical fighter, essential to the synthesis of collagen), I'm sure you are eager to dive in.