I'm the first to admit I'm a very bad consumer. If I think I can make something I will avoid buying it, even when it makes a lot more sense to just spend the money. But I'm stubborn. Earlier this month I hosted a baby shower and, even though we were working on the house up to the last-minute, I decided that I was going to make as many of the items I could for one of the shower games. You'll be proud that I decided against making the onesie or even attempting to make a bottle, but I did decide the bib, the hat and the baby booties were fair game, even though I had no patterns on hand for any of them.
Thanks to the Internet and this size chart from Bev's Country Cottage, I was able to draft some basic patterns and whip up some baby items  just in time for the shower.
First up is this little bib. The front is echino laminate fabric and the back is made from  two layers of an old t-shirt. The neck closes with a strip of Velcro cut into a circle and machine stitched to the bib. It measures approximately 8″ wide by 10″ long. It turned out to be pretty precious even though it took me two attempts to figure out the best construction. You might note the needle holes left over from attempt number one. Some fabrics are less forgiving than others.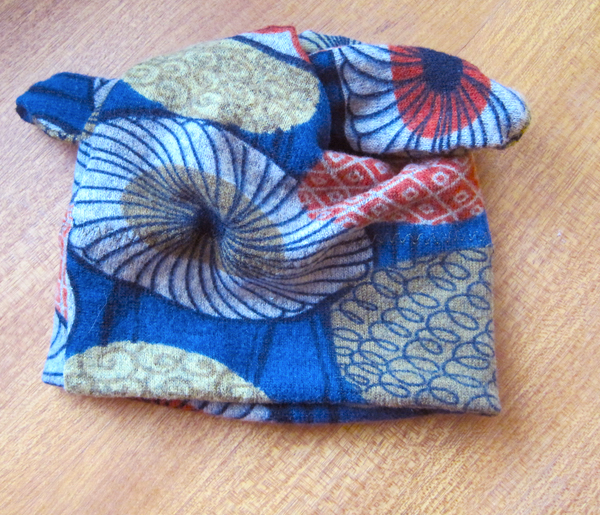 Next is this little hat made from a knit fabric that has been in my stash for years, but that I've never found a project for. It can be styled by tying each ear into a separate knot or tying the two ears as above, which is what I prefer. The interior is seamed with my serger and the hem is finished with a zigzag stitch on my sewing machine. It was surprisingly simple to pull together. After I do a test fitting of it on an actual child, I may end up solidifying a pattern for it. Same with the bib.
The baby booties are another story. With 1/2 hour before my co-hosts were to arrive I was creating a simple baby booty pattern which is clearly easier said than done without a baby foot nearby for scale. As my co-hosts arrived I was still sewing and eventually decided that the semblance of a booty (a single, unfinished booty with raw edges) I'd created was good enough for our purposes. No body seemed to notice.
And while we're on baby projects, I'll just throw in the stuffed owl I made for my niece this Christmas. Made with fabric scraps that I used for her quilt, an old sweater and some leftover Minky fabric it came together quite nicely. Funny what a fat oval with points drawn onto it can turn into with just a little embellishment.
What simple projects have you been up to?