One of my best friends lives about 200 miles away so we make a point each year to get together a few times for marathon weekends of crafting, baking and just catching up. On one of our weekends she showed up with a screen printing kit she'd found for me at Michael's for one cent. She presented it to me proudly, and then we laughed, confused by this little cardboard contraption. Its flimsy packaging also served as the processing box and it came with some small screens, a light bulb and some fabric paint. Obviously, even if I used it and it didn't work at all, this one cent gadget was a steal.
We weren't able to experiment with the kit during our weekend, but I broke it out the weekend before Christmas as I put together the last of my gifts. It only worked on my first attempt (and even then, not perfectly), but I can't complain. For a one cent product, it actually provided me with one more success than I'd imagined I'd have, and I ended up with a gift for my brother's girlfriend.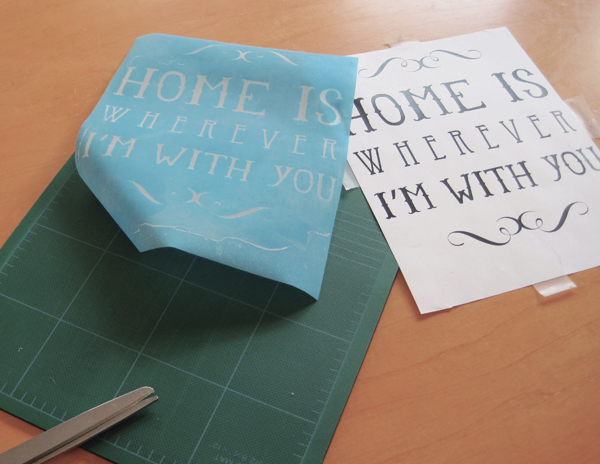 The quote is, of course, from the song Home by Edward Sharpe & The Magnetic Zeros. The fonts are Eccentric STD and Lullaby, which is a free font for personal use by Gravual which you can find at dafont.com.
With the first pillow complete I tried to make some more screens, but all my other attempts failed. I think the first 30 minute screen burn used all the juice in my little light bulb. Luckily I always have plenty of fabric on hand for when my planned projects  fail, and so my mother-in-law and Grandma received pieced pillows instead, which seemed to go over just as well.
The pillows are 16″x16″ with envelope backs in a contrast fabric. The backs are lined with interfacing, the stitching is reinforced at the opening, and the raw edges from the piecing on the front is covered on the interior with muslin that is held in place by stitching in the ditch between each front piece.
They came together painlessly and made  for cuddly little packages under the tree.
When you craft for the holidays do you make multiples or do you make totally unique gifts for everyone on your list each year?