This summer I walked into our sweet local fabric store and walked out with a yard of Melody Miller's Ruby Star Spring 2011 fabric. Its rich colors and texture drew me in and my first thought was, "I must make a skirt." But upon bringing it home I realized it was much more "art" and much less apparel fabric, at least for me. Clearly there a people who can make and wear amazing clothing made from Melody Miller prints, but I'm not one. Do you get seduced by fabric too?
Anyway, this fabric sat washed, ironed and ready to go for months waiting for the perfect project. Then in an organizing fit I threw it into the living room and realized it matched the room perfectly. And so a pillow was born. Not sure why I didn't think to make one sooner.
The fabric as a whole is lovely, but I wanted to break it up a bit. I pieced together the front (above), setting the bee illustration, which I love, off-center. I didn't do anything to the back of the pillow and let the fabric do its own thing. It's just so cool that leaving it alone might just be the best way to showcase it.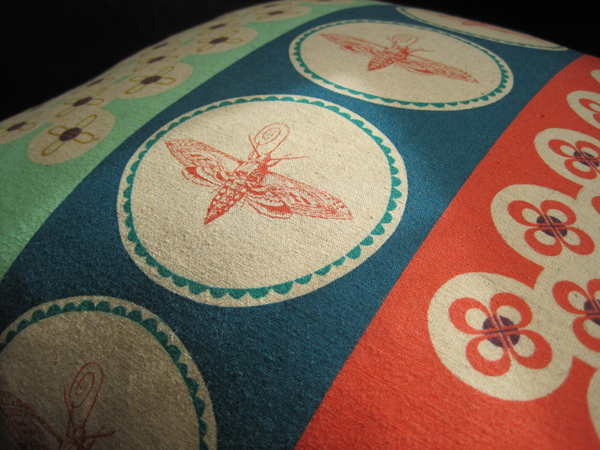 It's nice to have a new pillow in the rotation since each of ours show six years of wear and  tear and dog drool. We don't revamp things as often as we should, but I'm working on it.
Who are some of your favorite fabric designers?