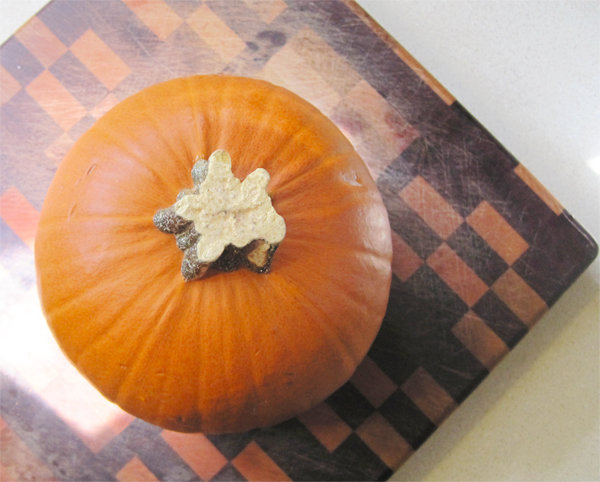 For me pumpkin pie has always fallen to the bottom of the list of things I desire. It's kind of mushy and bland, as though the pumpkin has gone straight from a can and into the pie crust. It's always something I skip over at holidays because there is ultimately a showier dessert that grabs my attention. But when I saw pie pumpkins were part of our recent weekly produce delivery I didn't swap mine out for a head of broccoli as I normally would. Instead I thought, "Maybe a real pumpkin pie will change my mind." And it did. I suddenly came to understand how pumpkin pie became a holiday staple in the first place.
This pie is smooth and light, like a silk pie. It's not dense or dominated by any particular flavor. The cream, the pumpkin and the spice play perfectly to make it a gourmet holiday treat.
Real Pumpkin Pie
Adapted from Simply Recipes
Filling
Make filling for one 9″ pie
2 cups of pumpkin purée from a pie pumpkin
1 1/2 cup heavy cream
1/2 cup lightly packed dark brown sugar
1/3 cup white sugar
1/2 teaspoon salt
2 eggs plus one egg yolk
2 teaspoons of cinnamon
1.25 teaspoon ground ginger
1/4 teaspoon ground nutmeg
1/4 teaspoon ground cloves
Pinch of allspice
Process
1. Preheat oven to 425°F.
2 Mix dry ingredients in a large bowl.
3. Beat the eggs together and then add to the dry ingredients. Stir in the pumpkin purée. Finally, stir in cream. Whisk rapidly until well incorporated.
4. Pour into pie shell (recipe below) and bake at 425°F for 15 minutes. After 15 minutes reduce the temperature to 350°F, baking 40-50 additional minutes, or until a toothpick inserted in the center comes out clean.
5. Cool on a wire rack for 2 hours.
Crust
Makes two 9″ crusts
Ingredients
2.5 Cups of Flour
1 Cup of chilled, unsalted butter, cut into 1/2 inch slices
Dash of salt
1/2 Cup of ice water
Process
1. In a food processor mix flour, butter and salt until well incorporated. The mixture should be very fine crumbles.
2. After well mixed transfer flour/butter mixture to a medium mixing bowl. Add the ice water and mix together until stiff dough forms. (I use my hands.)
3. Wrap in plastic wrap and chill in the refrigerator for 10 minutes or until ready to use