Upon first glance at this baby sweater I was sold. Upon knitting it I finally know what pattern love truly is. Now I'm contemplating an adult-sized sweater in the same style for me.
I love everything about this pattern. I really do.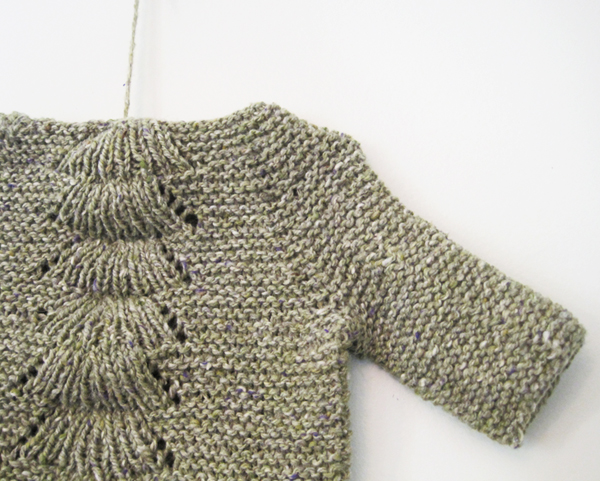 This is knit from Jo Sharp Silkroad DK Tweed, a yarn mix made from 85% Wool 10% Silk and 5% Cashmere. The color is Beanshoot. I've had it in my stash for years, just two balls waiting for the perfect project. Then along came baby Anna and she seemed like the perfect recipient. Too bad I got a little ahead of myself and knit a sweater sized for a 3-month-old for a baby born in February. This wee babe probably won't be wearing wool this summer, but even if she never wears it, it was a heavenly knit. Knitting with good yarn is always a treat.
The pattern Camilla Babe comes from Quince & Co and designer Carrie Bostick Hoge. I don't buy many knitting patterns as lots of patterns just aren't my style. I like clean lines and simplicity. Although knitting can be simple and clean, it rarely seems to be.  The talented designers out there just have the ability to incorporate color and texture in so many different ways that it's hard to keep it simple, I understand. But Quince & Co. — well, they have my heart. Their styles are perfect, their models lovely and their look books inspiring.
For this sweater I'm a sucker for the garter stitch. The bear claw pattern on the front makes for an interesting detail. And it's a baby sweater. When I cast on for the first sleeve I squealed and made Regan look at how tiny it was. "An arm is going to fit in this!"
Sheesh. Baby clothing. Precious.