If 14-year-old Claire knew I was now making my own deodorant she'd be appalled. There was a day when I couldn't get enough of the aluminum-based stuff. I'd reapply at least six times a day, worried that there wasn't enough I could possibly do to cover up the smell of being human.  I was definitely the girl who walked around with powdered deodorant balls falling out of her t-shirt and onto the floor. I was tragic.
I'm still wickedly hypersensitive to smells, but my fear of chemicals in products has started to outweigh the stink factor. For the last few years I've been using natural deodorants and have tried many different brands — Tom's, Burt's Bees, Weleda and others — but always with unimpressive results. I've been wanting to try making my own for a while, but never quite got around to it until recently when I opened the bathroom cabinet and realized I was completely out.
And so I returned to my search for the perfect DIY recipe with renewed focus and ultimately used Angry Chicken's recipe as my jumping point, modifying it to the products I had on hand. Instead of a cream deodorant, like Angry Chicken's, I conveniently wound up with a glide deodorant. It's pretty easy and pretty fun. I'm loving the scent of the gentle, warm citrus blend below, but you could absolutely experiment with other essential oils.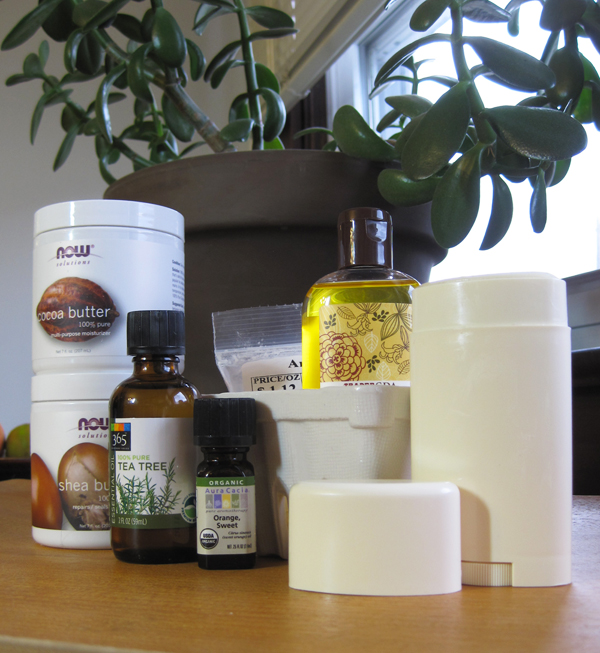 DIY Deodorant
Ingredients
3 Tablespoons Shea Butter
3 Tablespoons Baking Soda (I use Bob's Red Mill aluminum free)
2 Tablespoons Arrowroot Powder
2 Tablespoons Cocoa Butter
10 drops Jojoba Oil
15 drops Sweet Orange Essential Oil
4 drops Tea Tree Essential Oil
Process
1. In a double boiler mix Shea Butter, Baking Soda, Arrowroot Powder and Cocoa Butter until well mixed.
2. Remove from heat and let cool just a bit.
3. Once slightly cooled, add Jojoba, Sweet Orange and Tea Tree oils, mixing thoroughly.
4. Pour contents into a an old deodorant tube. I cleaned an old Tom's deodorant tube and filled that. If you don't have a tube on hand, you can easily use a small, 4 – 6 oz. glass container but will have to apply with your fingers instead.
5. Once poured into the appropriate container, place in refrigerator to set. Once solid, store at room temperature.
To apply: If using as a glide deodorant, you know the drill. You may have to loosen the stick of deodorant from the sides of the container for your first application by warming the plastic in your hands and gently pressing the plastic all the way around before turning the dial. Otherwise, you should be set.
If you didn't have a tube and poured your deodorant into the glass container, simply rub your fingers briskly on the surface of the deodorant. It will melt into a cream and you will want to use about a pea-sized amount to rub into each armpit. I've used it both ways and both work, but the glide deodorant fits my morning routine best.
* Please note that this is a deodorant, not an antiperspirant. It's not going to prevent any heavy sweating, but it's at least going to combat the stink. And even though it's not an antiperspirant I've already found it keeps me drier than some of the natural, glossier deodorant brands I have used in the past. I really like the results so far and, as my husband can confirm, I've been walking around the house smelling my armpits every few hours just to make sure. Believe me, I'd let you know if I wasn't smelling fresh.