Let me just tell you how lovely it is to have access to a sewing machine that is not made entirely of plastic.
Very lovely.
For Christmas I usually stick to making gifts for the girls — knitting and sewing flimsy fabrics that don't cause my machine to throw a tantrum (or cause me to throw a tantrum). But this year I had access to an industrial sewing machine, thanks to my employer, so I whipped out some hearty projects for some of the men in my family.
My little sister's fiancé recently started his first job out of college and when I asked her what he might like, Arielle suggested he'd like a case in which to carry his laptop. And so this simple portfolio with a business card holder was born.
There's really not much to it at all. I simply cut a long rectangle, 2.5 times the length of his laptop width and 2 inches wider than the depth of his laptop in order to accommodate the 1/4 inch seam allowance and the height of his closed laptop. I added a business card holder on front, folded the leather into the shape of a large manila envelope and created an exposed seam 1/4 inch wide down either side, leaving a 1/2 inch open gusset at the bottom to give the portfolio depth. Then I evenly cut away excess leather at the seams, created a rounded front flap, using a dinner plate as my guide and created four leather buttons to use at the closure. There is one leather button on the back of the leather and one in front for reinforcement at each end of the closure, and the closure is made from braided embroidery floss.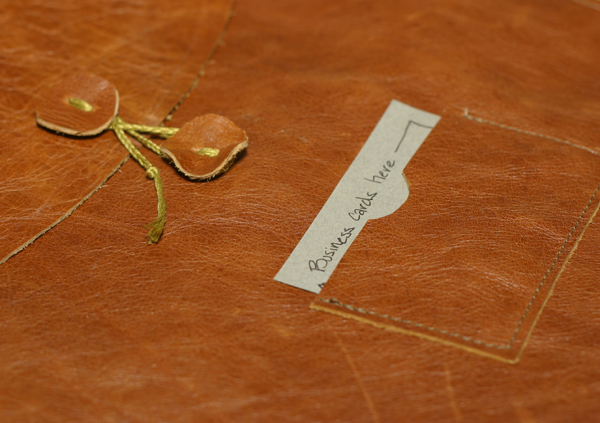 The right machine makes all the difference.